Jagmohan Singh
Achieve Absolute Financial
Freedom with an Absolute Financial Control
Are you worried that despite your best efforts your business always runs out of the cash?
Are you generating decent profit in your business and yet getting stressed-out controlling finances?
Is constant financial pressure impacting your health and life?
Do you feel suffocated fire-fighting the cash management?
---
The university of Google can't help you. I can.
Quick hacks and cheat-sheets you would find on Google are like paracetamol, they may feel like giving quick respite but they don't cure the route problem.
To conquer your cash flow and make happy relationship with your money you would need to learn the rules of this incredible game of finance.
Tools to Improve Your Cash Flow & Fast track to Big Profits
Following program and support service can help you build your cash rich highly-profitable business that funds the life you desire.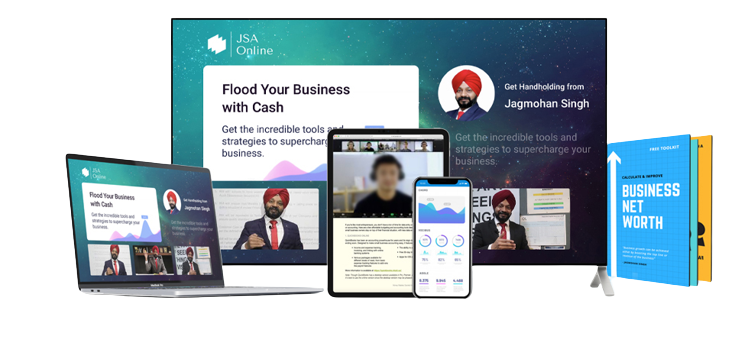 JSA Online
Get all the Tools, Strategies & Support from Jagmohan's award-winning team to run a Cash Rich Profitable Business.
discover more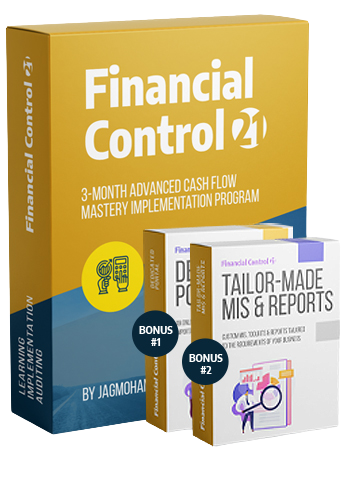 Financial Control 21
Let Jagmohan Singh "personally" handhold you to achieve your financial freedom, fast with his signatory program.
discover more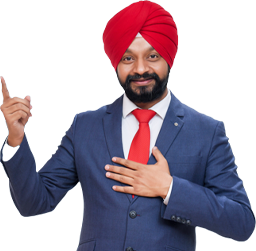 My Personal Guarantee
Implementing the learnings of these
program religiously, you're guaranteed to...

You can radically improve your cash flow and drive it to build a highly profitable cash-rich business.

Develop a system-driven accounting, financial discipline, reviews, and on-time compliances.

Dramatically reduce the cost, plug the revenue leakage and build an on-time collection and payment system.

Increase the valuation of your business many-fold and finally find absolute peace of mind in the area of money.
Success Stories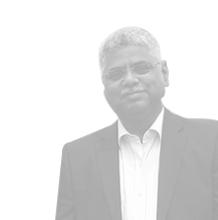 Once again I do really enjoy your 5 AM sessions on Saturday. For a non-finance person like myself there is continuous learning involved.
Author Name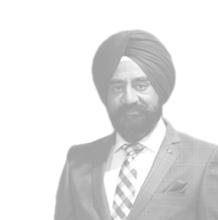 Apart from great learning and hand-holding, this program asks for an 'Accountability'. And, that's what changed the game for me."
Author Name

With Jagmohan's strategies, my long pending taxation matter got resolved in just 3 months and I could get back my 12 lacs stucked with authorities.
Now as the money is back in the business and also I can again focus on taking the business to new heights.
Author Name

To be honest I was a little skeptical about this program but later on I joined because of my trust on Jagmohan Singh. That decision resulted in fortune for me.
Just with one learning I could save 90 lacs by fixing an obvious mistake. Can't believe my luck.
Author Name
Live Training, Video Tutorials, On-the-go Shorts, Interviews & a lot more
Reality Check! Your Credit Card is a Virus
Have You Created Your Emergency Fund?
Secrets Revealed: Run Business Debt-Free
Cash Flow is more important than Profit
Life Transforming Books
Learn the rules of money that the millionaires use to build and grow their wealth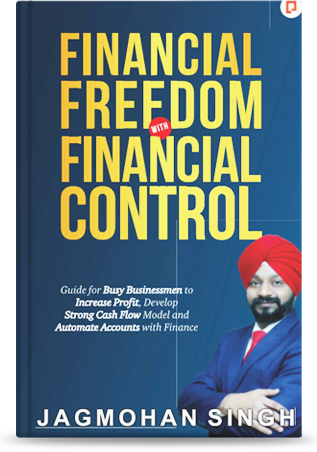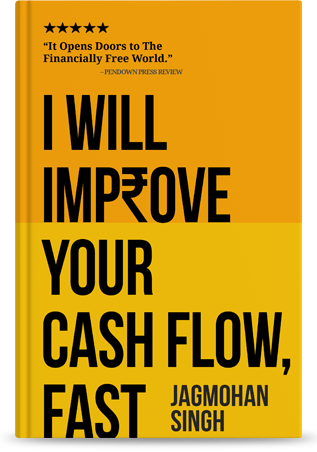 pre-book your copy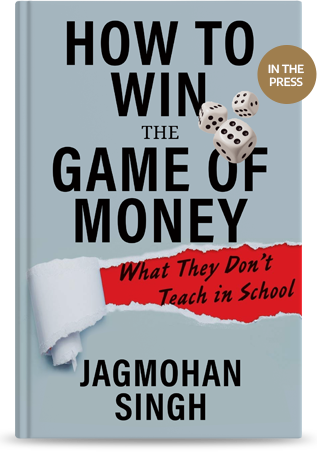 Coming Soon


"Incredible resources. Exactly what a growth-seeking entrepreneurs needs today."
Sunil Uplap
(MD, Shubham Acqualink India Pvt Ltd.)


"Jagmohan Singh has done a BIG favor to business fraternity with these resources."
JASRAJ KALRA
(MD, Noble Moulds Pvt. Ltd.)
Join 5 AM Cash Flow Mastery Session
Serious entrepreneurs
literally line-up before the dawn to join. Grab your seat for FREE!
During this 90-min masterclass, you'll discover:
A proven & easy-to-implement framework to Keep Your Business Afloat with Cash, every single day.

Plus, many little-known strategies you can put in practice to Uncover "Hidden" Profits in your business.
Book your seat for the upcoming masterclass.
yes, please book my seat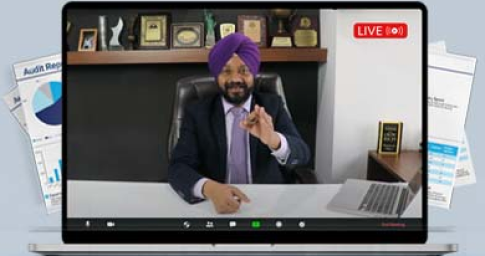 Hello, I am Jagmohan Singh
Leading Cash Flow Expert & Your Financial Freedom Mentor
For 22+ years, I have been helping business owners to fix their financial woes, iron out money challenges, build a solid cash inflow-outflow mechanism.

I have been so incredibly blessed to have had some of the best mentors come into my life and share their wisdom with me, so I have vowed to continue the tradition of passing on the wisdom that has been entrusted to me.

A Global Indian of the Year awardee, I have worked with more than 879 business owners in India & abroad and helped them reach their financial freedom goals at a speed they never thought possible.